Lovingly crafted products by a self-published artist and professional astrologer, merging aesthetics and functionality to help you elevate your practice and turn your purpose into gold.
More than just things. Every product you can find here at Studio Artemy is infused with magic and designed to become a unique experience. A gateway for your soul to embark on a journey of self-discovery toward clarity, connection and deep spiritual fulfilment.
Fortuna Tarot Deck Opal Omen
The Fortuna Tarot Deck is a blend between tradition and evolution; combining Tarot, Astrology, Numerology and Alchemy this deck will help you discover all the secrets that lie within yourself and the occult.
This deck pairs seamlessly with our newest addition the Arcanum Vitae Deck, acting as an expansion pack where you can exchange Major Arcana cards to create a new deck.
SECURE YOUR COPY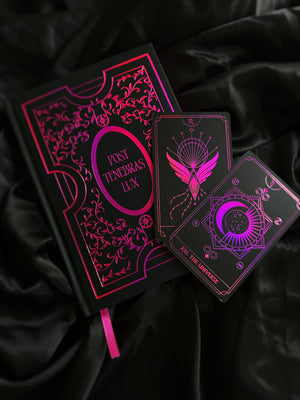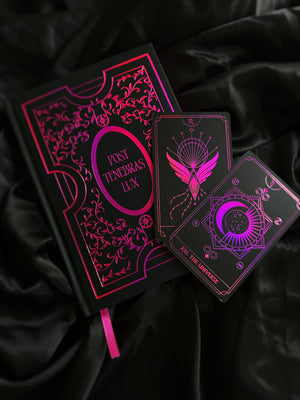 NEW DROP
Lararium Grand Tableau Altar Cloth
The name 'lararium' comes from ancient Latin. The Lararium (pl. lararia) altar is the sacred place of the home where offerings and prayers are made to the Gods
In this Altar cloth you will find the 36 Lenormand cards (also known as the Lenormand houses) adorned in luxurious gold foil – the perfect companion to perform your Grand Tableau readings
ADD TO CART
meet the artist
Welcome to my sacred digital space light being
Maria here, the face behind Studio Artemy. I created my small business in hopes I could help others elevate their spirituality and guide them in their own personal evolution, by bridging aesthetics and functionality to develop products that speak directly to the soul.
I merged my career as a graphic designer with my passion for divination to create magical goods that feel unique and special, offering you more than just a physical product, but an experience to immerse yourself into.
Lovingly Crafted
Produced in small batches and created with deep love and intention by an independent artist
Earth Conscious
Our packaging is recyclable and we also plant one tree per order to offset our carbon footprint
Woman Owned
Studio Artemy is powered by women and supports LGBTQ+ inclusion, orientation and gender equality
Astrology made simple
Learn the language written in the stars and harness the power of the cosmos with our best-selling Astrological Oracle Decks and themed Journals
DISCOVER THE COLLECTION
As an Astrologer and a member of the esoteric, spiritual and tarot community for over a decade, I am constantly impressed by Studio Artemy and their productions. I own every deck that has been created, and I have not found another that has the quality, attention to detail and overall beauty quite like them! Every single item that is made is thoughtfully made with care, and it shows, even down to the hand-painted edging and the vegan silk construction of the altar cloths! I always look forward to what will come next out of this incredible company! Studio Artemy is truly stunning!

@ap_astrology

Instagram
The Fortuna Deck is a powerful soul with clear messages that pull no punches.  It challenges you while also supporting you - and is definitely centred in Astrology (my pulls always align with transits in the stars) Not to mention, it's insanely well designed. Luxe in every sense of the word.  The cards are top quality that beg to be shuffled. Absolutely. In. Love.

@likelytale.witch

Instagram
I absolutely love both my Astrosoul deck and my Ethereal Orbs decks. They are not only wonderful quality with stunning imagery but always seem to hit the nail on the head. 

@toweryoga

Instagram
I love all of the products I've purchased from Studio Artemy—so much so, that I set calendar notifications for any new product launches! The attention to detail is superb—from the edging and materials, to how each product works and fits together. And, the design and artistry is impeccable. I'm excited for anything that Studio Artemy produces.

@accidentalbruxa

Instagram
The Astrosoul deck is heaven. The painted blue edges are sure to last a long time if not forever. The cover design is mesmerizing. It looks like the star burst is etched within the card. I could stare at it all day.

@stithsage

Instagram
When I received my Ethereal Orbs deck I was stunned. The texture of the box is is incredible and I love all the little details on the cards. This is going to be my favourite deck ever! Thank you for putting something of such high quality on the market.

@howl_wilder

Instagram
It's been a couple of months since I started using the Astrosoul Oracle Deck and I've honestly never felt such a deep and instant connection with a deck. I'm an astrologer the answers I receive are always straightforward. Thank you for creating such a wonderful companion for my day-to-day life.

@astrimatti

Instagram
I love my deck! The craft & detail exude the passion put into this project. It's exemplary in all ways. From the foil to the card stock. So intentional. Maria's diligence is noted & beautiful!

@sara_is_cosmically_ill

Instagram
The Fortuna Tarot deck is just beyond! My Amethyst Aura deck not only inspires me with its rainbow foil ripples but also with its impeccably accurate and on point messages! Maria's extensive knowledge of astrology and tarot is so evident in both the guidebook and in the imagery on each and every card! It is such a beautiful deck and one of my absolute favourites to work with. As a person new to astrology her work is teaching me so much but even if you are a seasoned astrologer or tarot reader you will recognise all the beautiful and subtle features in this deck!! If you're on the fence about this deck you should just buy it - You won't regret it!

@liz_petrucci

Instagram
Discover more magic, rituals and astrological forecasts on the blog
View all