Tarot deck
The design and quality of these cards is fabulous, it's just what I was looking for and will help me get back into tarot!
I review decks on YouTube
I review decks on YouTube and I was drawn to the Fortuna Amethyst Aura deck so I purchased it to review it on my YouTube Channel Starseeddragon you can see the review here:
https://youtu.be/ktQr1TQi-zM
It's a wonderful deck and has a great energy.
Fortuna Tarot Deck Amethyst Aura 💜
The most elegant deck that I've ever seen. Great quality, great design, beautiful colours, I really love it! 🥰
My favourite colour is purple, and my favourite crystal is amethyst, so this deck I feel done for me. I'm so happy to have it! And the costumers attention, is great too! Maria is so lovely!
I'm very thankful. 💜💜💜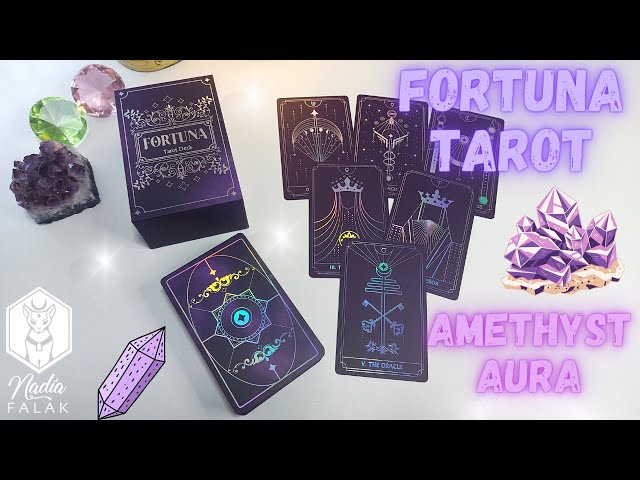 Literally out of this world!
As someone who was just getting into tarot, I wanted to get a deck that was unique and also really well designed. Every part of the deck is filled with care and careful attention to detail. The box is extremely well made and gilded, and there are hidden details throughout it that help to encapsulate the overall vibe of the deck.
The book that comes with it is above and beyond and explaining the historical aspects, important philosophies, and the different methods in which you can use the cards. It takes it's time to explain how each and every card works and also the different ways you can use them. The book itself is more akin to a full research philosophy paper than just a condensed and easy to find and print shorthand notes.
And the cards themselves are stupendous. They feel like extremely good in the hand, they shuffle like a dream, and each and every card has a clear and specific design element to make it unique compared to all the others. I honestly have never felt such an experience and you can really feel the heart that has been poured into this deck.
I'm honestly a little upset because I don't know if I can ever purchase any other deck that's going to meet the quality and standards that have been set by Studio Artemy!